Shifting gears a little bit right now. I'm excited that today is the day that I finally get my little one back in her fluff after a month in sposies; this month has been riddled with bacterial infections, fungal rashes, and more painful procedures than I care to recount. I have an upcoming post planned about my NEW system for caring for cloth, but today I want to talk about something that's really important to me.

Since birds of a feather tend to flock together, as it were, I think that it's a pretty safe bet that a lot of us cloth parents may be concerned about choosing natural alternatives to the things that most of us do anyway. From using cloth diapers to changing the products we use to clean our homes...to birth control.

There is just so much about the scientific mechanics of birth control that I do not know the ins and outs of, and I will be quite honest with you. I won't pretend to know things that I do not know. But I DO know that taking hormonal birth control pumps your body with artificial, synthetic hormones day in and day out, often for years (depending on personal usage). How could we ever have thought that this was good for us?

Let me give you a little background, and then I'll get back to what I do know about hormonal birth control methods (e.g., the pill, the patch, nuva-ring, mirena IUD, etc.).

If you have never figured out from my references here, or checked out our family blog that I also author, I am a "soul'ed out," through and through Christian, and unwaveringly pro-life. When my husband and I were engaged and I began considering the prospect of employing birth control, I simply felt uneasy in my spirit at the thought of taking "the pill," but didn't really know why. Against my better intuition, I took it anyway, starting a few months before our wedding and continued to do so through the first 6 months of our marriage.

Let me just say it would be an understatement to say it made me crazy. In case you didn't know, Ob/Gyn nurses call Ortho-Tricyclen "Ortho-Try-Psycho" for a reason.

So I began reading and researching about Natural Family Planning. I was just looking for a better and more natural way, but the things I now KNOW about birth control really disturb me. This is the one thing that convinced me, beyond the shadow of a doubt, that I will never pursue hormonal birth control methods again:

The birth control pill works in 1 primary way and 2 secondary ways: (1) prevents ovulation; (2) thickens cervical mucus to prevent sperm from passing through; and (3) alters the endometrium, aka the uterine lining, to prevent the implantation of a fertilized egg in case the first 2 methods fail.

(Go read this information firsthand from the Ortho-Tricyclen-Lo website, or the Ortho-Evra (patch) website. It's right there in the "how it works" sections.)

I believe that life begins at conception. If I am taking a birth control pill that could possibly "prevent the implantation of" (aka "abort") a fertilized egg, then this medication is in serious conflict with my beliefs on the sanctity of life.

Now, Dr. Husband's position on this issue is that you could never, ever verify that a "period" is a result of a failed implantation of a fertilized egg. But my position is that you could never verify that it wasn't, and I do not believe that it's worth the risk.

So, let's just get the most well-known NFP joke out of the way, shall we?

What do you call people who practice natural family planning? Parents.

Ha. Ha. Ha. ;o)

Seriously guys, there's a better way. It's not the archaic, ineffective rhythm method, and it's not a lot of work. It's called the Fertility Awareness Method, and you can learn all about it in this wonderful, easy-to-read, and often humorous book, Taking Charge of Your Fertility by Toni Weschler.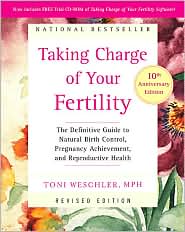 The Fertility Awareness Method is an easy to learn system of charting both physical symptoms, such as cervical fluid and position (if you're so inclined, haha, pun very much intended), and your waking temperature.

Through utilizing FAM, you will learn how your body actually works, and no longer be mystified by the changes your hormonal fluctuations render on your body each month (and the resultant fluid variations most women undoubtedly already notice).

FAM, when practiced and applied correctly is around 98% effective at preventing or prolonging pregnancy, so it's comparable to most birth control pills, and actually MORE effective than barrier methods (such as condoms, diaphragms, etc.).

And when you're ready to begin or expand your family, FAM will help you to optimize the time in your cycle in which you are able to conceive, which will likely help to reduce the stress many couples feel when they trust in the erroneous notion that all women are supposed to have 28 day cycles and ovulate on day 14, when so many of us don't!! (And if you're trying and trying on days 12, 13, and 14, and then getting frustrated for the rest of the month...and you actually ovulate on day 19 or 20, what do you think your odds are of getting pregnant?)

In addition to shedding light on common issues, charting your symptoms may also help you to work alongside your Ob/Gyn to discover and diagnose problems, like a too-short luteal phase or even endometriosis. (I, for one, cried and cried when I read this book, and discovered that I don't have endo as I had feared; the biggest symptom that gave me great concern is actually so common that it happens to over half of women!)

Charting isn't a tremendous chore, but if you think you won't want to keep up with it, there's a free online help: Fertility Friend. There you can log all your information in, and it keeps track of it for you. Then, if you ever need or want to, you could just print out your charts and carry them into your Ob/Gyn's office for a consultation.

So, in addition to the issues that I encourage you to soberly consider regarding sanctity of life, let's recap on birth control pills vs. Fertility Awareness Method:

Birth Control: headaches, weight gain, nausea, depression, mood swings, chronic migraines, blood clots, heart attacks, breakthrough bleeding, and negative changes in sexual desire. For all this you pay between $2000 and $4000 out of pocket (after insurance, if you have any) over a 10-year span, and possibly face months of waiting to conceive after stopping the pill while you wait for your body to begin "working" again. And its efficacy of around 98% is only guaranteed if you take it at the exact same time every day.

Fertility Awareness Method: take about 1 minute each morning to take and record temperature, 5 to 10 seconds to check cervical fluid before using the restroom 2 or 3 times a day, 5 minutes to write everything down each day. For this you spend about $10 on a good basal body temperature thermometer, and incalculably negligible pennies a year on pencils and paper to keep track of your charts (or use the free Fertility Friend). Its efficacy of around 98% is guaranteed when you follow all rules and principles, and you are free from the "Am I?" worry and anxiety that panics women daily.

Hope this gives some new folks something to think about. I'd love to hear from you guys on this issue, but please, let's keep the comment discussions friendly!

**Update July 2010: Husband and I no longer personally employ the use of barrier methods of prevention during my fertile times. I am happy to talk to people about why if they are curious - just shoot me an email through my family blog. :)

** Updated: Friends, I am loving reading your comments and questions! Several have asked and wondered if FAM would be a good fit for them due to irregular cycles, or not seeing temp shifts after temping for one month. If you have a similar question, please read through the comments; both my friend Jessica and I have responded to these queries. FAM is an excellent tool for those of us with irregular cycles, and the book explains why so much more perfectly than I can, so I also encourage you to find this book! It's a really quick read, and it will truly open your eyes! :o)